歴史・技術・感性が融合する
繊維のまち倉敷
Kurashiki—a textile town where history, technology,
and sensitivity merge.
倉敷市では数百年続く繊維産業の歴史の中で、
豊かな感性と熟達した技術に育まれた多彩な繊維製品が生み出されてきました。
Kurashiki City boasts a textile industry stretching back for hundreds of years.
The city has been home to a variety of textile products
brought to life through rich sensitivities and skillful techniques.
繊維産業日本一を誇るものづくりの現場には、
こだわり抜いた製品を追い求める作り手の姿がありました。
Kurashiki, the leading textile manufacturing center in Japan,
has been home to skilled artisans dedicated to creating only the best products.
その技術は、日本遺産。
A Japan Heritage Technology

始まりは
一輪の綿花から It began with
a single cotton plant...
約400年前、
倉敷市一帯は大小の島々が点在する海でした。
その後干拓により陸地に姿を変えますが、
塩分が多く米作りには向きません。
そこで栽培されたのは塩に強い綿花やイ草。
次第に綿やイ草を原料にした織物の生産が始まりました。
Around 400 years ago, the area of
Kurashiki City was a seascape dotted with islands.
Land reclamation transformed the area,
but the high salt content of the new land was not suitable for making rice.
Instead, the locals grew cotton and rush,
which offered better resistance to the salty conditions.
Gradually, textile production began with cotton
and rush as raw materials.

時代とともに
変化する繊維製品 Textile products that
change with the times
江戸時代から真田紐や小倉織、
足袋が生産されていた倉敷。
時代が進むにつれ、人々の生活に合わせて
学生服や作業着、そしてジーンズなどが生まれました。
長く培われた織りや縫製の技術を継承しながら、
新しい製品は作り出されてきたのです。
In the Edo Period, Kurashiki began producing Sanada braided straw,
Kokura woven fabrics, and traditional Tabi socks.
As time went on, production of student uniforms,
work clothes, jeans, and other products began to meet people's lifestyle needs.
New products inheriting the area's long-cultivated weaving and
sewing techniques continued to appear.

現代も続く、
手間を惜しまない
ものづくり Manufacturing that
spares no effort
even today
時代が変わり工業化が進んでも続く、
機械だけに頼らない
人の手によるものづくり。
徹底した品質管理による
世界に誇れる繊維製品が
今日も倉敷で生産されています。
Kurashiki-based manufacturers do not rely only on machines
even in the face of industrial progress and the changing times.
Through intense dedication to quality control,
Kurashiki continues to produce
textiles admired throughout the world.
その他の倉敷を代表する
繊維製品
Other Quintessential Kurashiki Textiles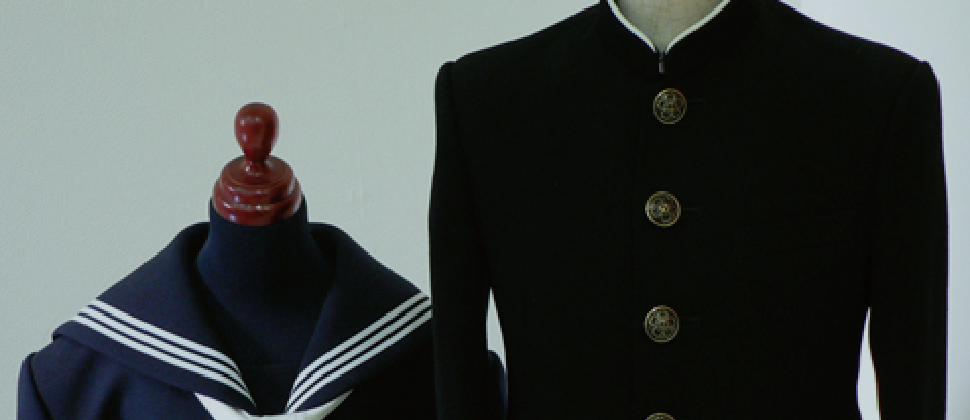 学生服 School Uniforms
厳選された素材と
優れた縫製技術により
全国のトップシェアを誇ります。
Kurashiki boasts the largest claim to
production of school uniforms in Japan
thanks to carefully selected materials
and superior sewing technology.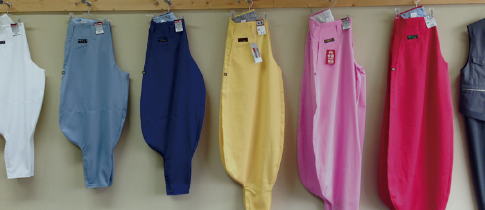 作業着 Work Clothes
業種に合わせた
多種多様なユニフォームが
生産されています。
Kurashiki manufacturers
offer a wide variety of
uniforms tailored
specifically to industry type.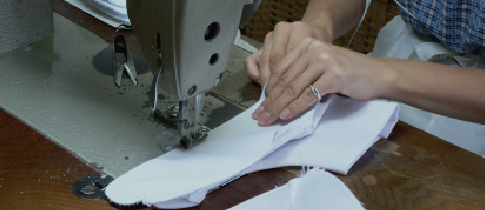 足袋・
地下足袋 Tabi Socks and
Jika-Tabi Footwear
和装にかかせない足袋や、作業労働者の
足元を守ってきた地下足袋は、
日本文化に根付いた製品です。
Two products with deep roots in
Japanese culture, Tabi socks are an
essential part of any kimono,
and Jika-tabi footwear help
protect workers' feet.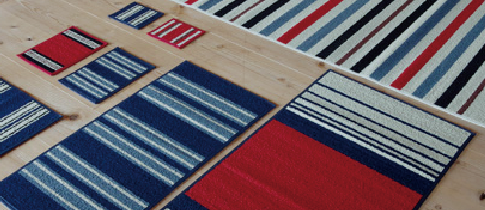 緞通

(だんつう)
Dantsu Rugs
和洋折衷の建物にも合う
敷物として考案。
丈夫さとデザイン性が魅力です。
Dantsu rugs are designed for use in
Japanese-Western style buildings.
They feature a durable
structure and attractive design.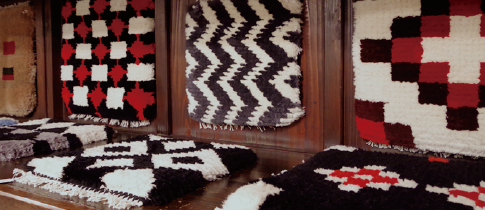 倉敷
ノッティング Kurashiki Knotting
Cushions
手織りの研究により
生まれたクッション性・
耐久性に優れた椅子敷。
Kurashiki knotting—a technique born
from manual weaving research—is
used to create these soft,
durable chair cushions.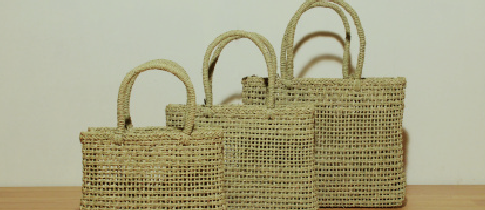 いかご Ikago Baskets
手作業で作られるイ草製のかご。
使っているうちに
味わい深い色になります。
These handmade bag-like baskets
are made of woven rush.
The products take on an
attractive color through use.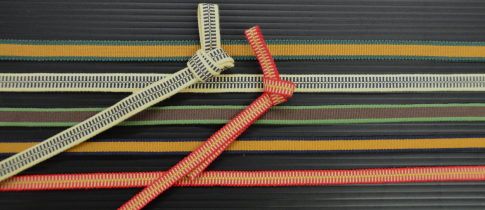 真田紐

(さなだひも)
Sanada
Braided Goods
装飾用の結び紐や
帯紐として使用されてきた、
古い歴史を持つ伝統織物。
Commonly used as decorative
ties or straps, these traditional
textiles boast a storied history.
日本遺産に認定された
倉敷のストーリー
The Story of Kurashiki, a Certified
Japan Heritage Story